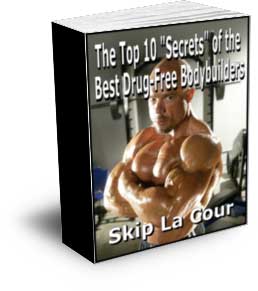 Sign Up for Skip La Cour's FREE Bodybuilding & Training
Tips Every Week (and get a Bonus Gift Too)!
Take every aspect of your life to the next level! Skip La Cour shares his winning mental strategies with you each week via e-mail.
Skip La Cour has been the premier peak performance and motivational speaker in the bodybuilding industry for over 20 years. He has coached thousands of fitness enthusiasts to develop their bodies and minds through the exciting seminars and intense one-on-one personal coaching sessions that he has conducted around the world.
Your BONUS GIFT "The Top 10 Secrets of the Best Drug-Free Bodybuilders" will be sent to your e-mail address.
Privacy Policy:
Skip La Cour completely respects your privacy and therefore will not sell, share or rent your information with any outside party.