Skip La Cour's Profile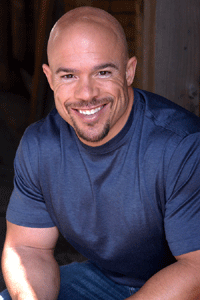 Skip La Cour has established himself as a leader in the bodybuilding world with his outstanding physique and by unselfishly communicating his training philosophies to others.
In his passionate effort to propel training, nutrition, supplementation, and mental strategies forward, he has authored ten books, produced six videos, and has frequently contributed to several international magazines. He has accomplished all of this and more while simultaneously becoming one of the world's best drug-free bodybuilders.
Peak Performance and Success Coach Skip La Cour is considered to be a master for teaching strategies for personal and professional success. In his powerful speaking engagements around the world, he empowers, inspires, and motivates individuals to realize their personal potential.
---
Competitive Bodybuilding Career
Skip La Cour has been training for more than 20 years and has been competing in bodybuilding contests for over 15 years. During that time span, La Cour has competed in 29 bodybuilding show around the world. At 5' 11", La Cour's competition weight ranges from 205 to 220 well-conditioned pounds.
Skip La Cour has won the NPC (National Physique Committee) Team Universe Overall titles twice (in 1998 and 2002). He was the very first man that show's overall title twice. He has won the heavyweight class five different times (1995, 1998, 2000, 2002, and 2003). Those five victories are the most class wins in the history of the NPC Team Universe contest. He is also the only man who has competed in all first 10 of the NPC's top drug-tested annual amateur event. The contest started back in 1994.
Skip La Cour is also the first man to have ever won the overall titles at both the NPC Team Universe and the Musclemania Natural Bodybuilding Championships—the two most competitive and most recognized drug-tested shows
in the United States.
In August of 2002, La Cour competed in what many feel was his all time best condition. He convincingly won his second overall Team Universe Heavyweight Class and Overall titles.
La Cour also won the heavyweight and overall titles the 1998 NPC Team Universe. Dropping 16 pounds from his previous year's physique that only earned a disappointing fifth place finish in his weight class, La Cour competed in unbelievably shredded condition and set a new standard of conditioning for drug-free heavyweights. The 1998 NPC Team Universe victory earned him the position of captain of Team USA. Unfortunately, Team USA was unable to compete in the IFBB World Amateur Championships (formerly known as the Mr. Universe) in Izmir, Turkey due to political unrest at the time.
The Academy of Bodybuilding, Fitness and Sports Awards named La Cour "Natural Bodybuilder of the Year" in 1998 for his outstanding efforts.
He became know as one of the top amateur drug-free bodybuilders in the nation by becoming the 1995 NPC Team Universe Heavyweight National Champion and earning a spot on the five-man USA Bodybuilding Team competing in the Mr. Universe contest in Guam, where he placed sixth.
Drug-free for life, La Cour first appeared on the national scene in 1994, when he won the Musclemania Natural Bodybuilding Championships, which aired on ESPN television. Two years earlier in 1992, he became the first man in the history of the AAU to win the Mr. California and Mr. Natural California in the same year.
He's written 10 books; produced seven DVDs; and four audio seminar courses that have been sold in over 53 countries around the world.

La Cour's over 25 years of being heavily involved in the personal development/motivation business and over 20 years in the bodybuilding and fitness industry have given him the unique ability to create instant change for people who want to improve their body, mind, and spirit effectively, efficiently, and in the shortest period of time.
Watch Skip La Cour Career Highlights
Mass Machine Nutrition®

Skip La Cour owns and operates MvM Nutrition LLC. MvM Nutrition LLC consists of two high-quality, cutting edge sports nutrition product lines:

Mass Machine® Nutrition is engineered for dedicated bodybuilders and advanced fitness enthusiasts striving to build muscle and lose body fat.

MANformation® Nutrition is specifically designed for men who are striving to improve their overall level of health and fitness, look and feel great, and do so in the context of a well-balanced life.
Click here to visit Skip La Cour's Mass Machine Nutrition web site.
MANformation® - Alpha Leadership Strategies


Skip La Cour is the creator of the MANformation® personal development program for men. MANformation teaches men of all ages the qualities, characteristics, and actions of the most powerful, charismatic, and influential Alpha males in the world. MANformation outlines Alpha Leadership strategies that transform you into the MAN you really want to be.

When you become more aware of these Alpha male characteristics; appreciate how they can affect the quality of your life; learn how to adopt them into your own personality; and practice these skills, you'll have more options in life. "Options" are all the things in life you REALLY want—and they are far more than all of those things in life that you merely settle for. Money, power, and sex are examples of the options in life many that men want, want more of, or a better quality what they already have.
Click here to visit the MANformation web site.